The main purposes of the double shaft shredder is processing large objects, and preprocessing objects for more fineness. Type TSG double shaft shredder automatically detects the load amount and reduces strain by changing rotation patterns, making possible the fracturing of difficult objects. Various objects can be processed; mainly waste plastics, scrap wood, paper, textile, and small electric appliances.
Structure Diagram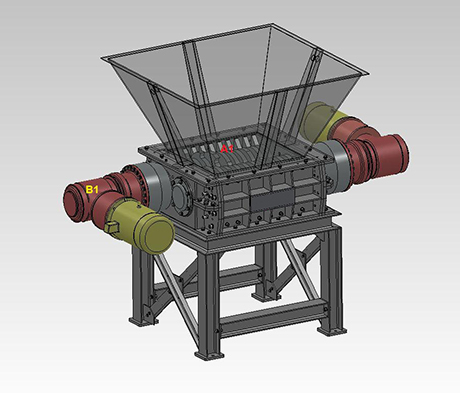 The outstanding power of the Type TSG double shaft shredder
The blade is the key to the fracturing power of the type TSG double shaft shredder. They are fixed in a wave form, thoroughly fracturing objects. The formation draws in and fractures objects smoothly.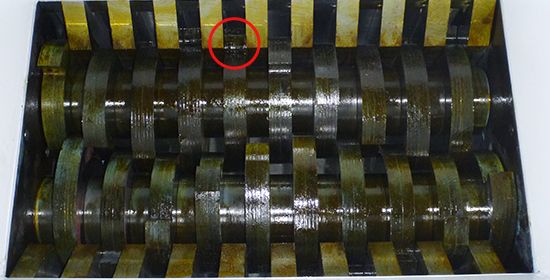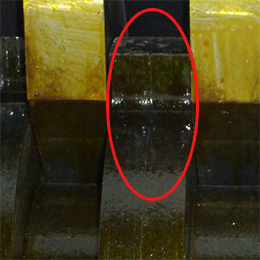 Point of Fracturing cutter
The hook on the edge of the blades firmly grasps objects into the machine.
Because the blades are not sharp, a small amount of abrasion does not affect the performance.

3D diagram
Process example
Scrap Wood、Tires、Vinyl Tube、E-waste...etc
Scrap Wood

Tires

Vinyl Tube

E-waste
※If you wish to test any materials, please do not hesitate to contact us.
Automatic control regulation for a smooth operation
Gear motor
Type TSG double shaft shredder is equipped with a gear motor for each rotor.
Efficiency is increased with individual rotation by reducing the amount of power required for processing.
After the load has been automatically detected, the blades spin in a counter direction before spinning forward again. Operation management is also simplified.
Fracturing rotor
Owners of the double shaft shredder tend to use it mainly for resource purposes, volume reduction, and preprocessing of difficult objects. The type TSG double shaft shredder is also equipped with an automatic system that changes the spinning direction of the blades according to the situation.
Standard spinning direction

Gear motor attached on the inner side.

Load detected

The reduction of speed and motor is combined for a compact form and increased strength.
Basic Specification and Custom Specification
The type TSG double shaft shredder can be adjusted in various ways to fit various users. It can, of course, be combined with other machines such as conveyers. Please do not hesitate to consult us.
<External Form>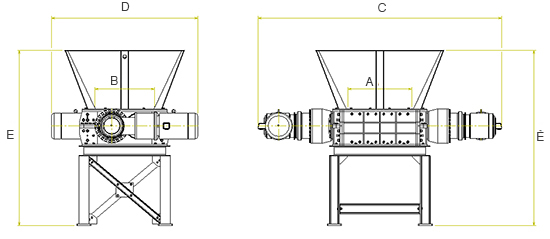 Type TSG Double Shaft Shredder:Specification/ Measurement

Model
TSG-150
TSG-370
TSG-740
Operating electric motor drive
(kw)
7.5+7.5
18.5+18.5
37+37
Fracturing room measurement
A×B(mm)
800×480
1000×750
1300×878
Rotor radius
(mm)
φ284×t20
φ430×t40
φ514×t50
Volume
C(L)
2820
3130
4730
D(W)
1060
1850
2210
E(H)
1850
2200
2825
Weight
(kg)
2500
5200
11000
※ Please note that specifications and designs may be altered for improvement without prior notice.
Please contact us for measurements not indicated above.