Type GBM Bailing machine excels both in work efficiency and compression power.
This machine's compression ability can be used for volume reduction and organization of various objects.
Structure Diagram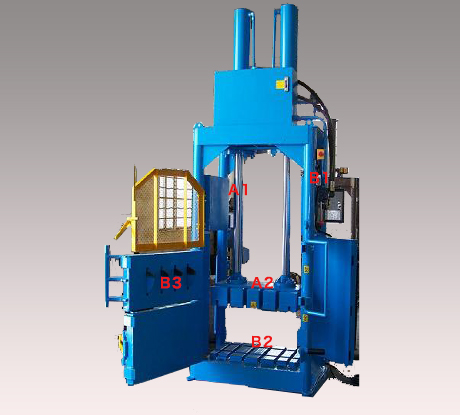 Less volume with the double cylinder
Type GMB Bailer is equipped with a double cylinder while still being at a reasonable price. Efficiency is increased by applying equal amout of pressure on the pressblock. The load amount on one cylinder is also reduced, which leads to a longer operating life.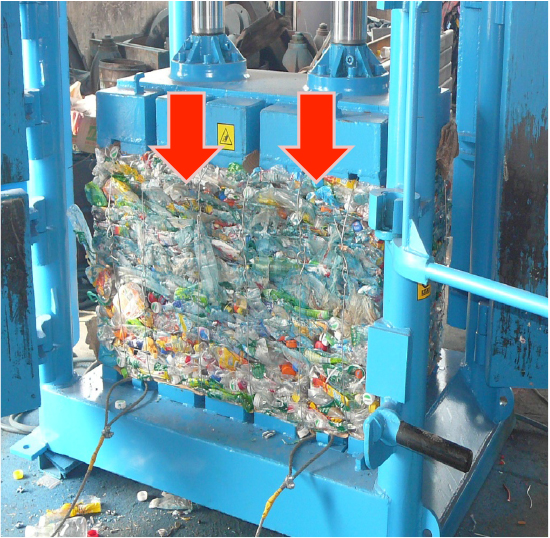 By applying even pressure on the press block, the processing object's volume can be reduced to a minimum with a high compression density.
Example
Flexible container bag

Plastic

Car bumper

vinyl
Simple design with easy operation
With its simple operation and design, the GBM bailer is a must for work efficiency.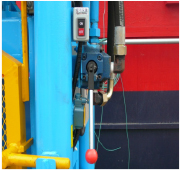 Changeover Valve
The basic operations are perforned by just pushing and pulling the lever.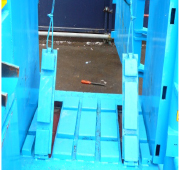 Automatic Ejector
Once the object has been compressed, it can be automatically ejected by raising the press block.
Even the troublesome ejecting procedure has been made simple.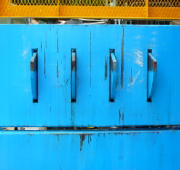 Leviation preventor
By reducing levitation of objects, they can be compressed efficiently.
Benefits
Save space
Objects that have been compressed into blocks can be piled up on top of each other to create space.
Reduce transportation costs

Transportation costs can be reduced by volume reduction.
Makes keeping track of numbers easier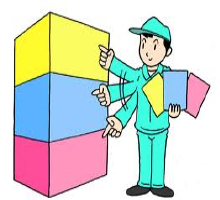 The blocks of compressed objects are easy to count, making the controlling of stocks easier.
Basic Specification
<External Form>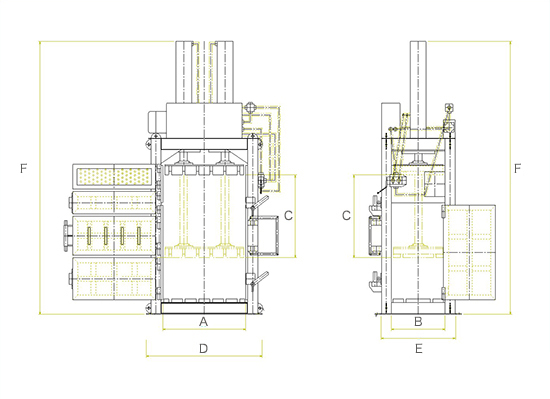 TYPE GBM Bailing Machine:Specification/ Measurement

Model
GBM-30
GBM-50
GBM-80
GBM-100
Operating electric motor drive
(kw)
7.5
11
15
18.5
Compressive force
(ton)
30
50
80
100
Packing dimension
(mm)
A×B×C
900×600×900
1000×650×1000
1000×650×1000
1100×700×1000
Volume
D
1250
1400
1400
1500
E
850
900
900
1000
F
3000
3300
3300
4800
Weight
(kg)
1500
2800
3100
4800
※ Please note that specifications and designs may be altered for improvement without prior notice.
Please contact us for measurements not indicated above.