Type GPC Granulator provides the desired granularit.
Objects are granulated by moving through two blades, one fixed blade and one rotating blade, which is then ejected out of the vent after passing through the screen.
Structure Diagram
The rotor can be selected according to granulating conditions.
Three types of rotor
Rotor type S
Type S is best for soft and elastic materials such as vinyl and rubber. The spinning angle of the blades are calculated for best performance. There is a space to let the heat escape to prevent damage and abrasion.
Rotor type V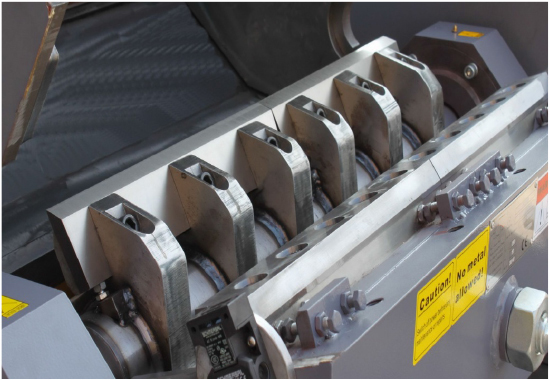 Rotor type V is best for granulating plastic. The blades fixed in a V form collect objects to the center. This prevents friction by reducing the amount of contact with the fracturing room.
Rotor type C
Rotor type C performs best on objects of small rubber, plastic pipes, and others, which are hard and thick compared to the objects named for the previous rotors.
The spinning blades that are placed in a staircase form granulate objects while keeping the amount of strain and impact minimal. It can also be used to granulate electrical wires.
Screen
The processed object passes through the netted screen and is then ejected.
The screen can be changed according to the desired granularity.
Safety
Designed to avoid accidents and malfunction, type GPC Granulator can be used safely for a long term.
Safety Switch
The machine will not operate when the hopper is open.
There is an emergency switch on the control board.
Vibration Absorption Rubber
Vibration and noise causes damage and exhaustion of the machine.
The GPC Granulator comes with a vibration absorption rubber at the base of the machine.
Maintainability
Type GPC granulator is a self maintaining, simple design machine made to reduce running costs. To facilitate the cleaning, replacement, and overall maintenance of the main parts, the machine has been equipped to maintain on it's own, thus getting rid of the need to call suppliers frequently.
Blade replacement
The abrasion speed of the blades differ according to the processing objects, but it will affect performance. The blades are secured with a bolt, making replacement easier, as they are disposable.
Hopper handle

It can be opened and closed by turning the handle.

The large opening was designed for work efficiency and cleaning.
Rotor type C

Rotor type S

Rotor type V
Basic Specification and Custom Specification
The type GPC granulator can be adjusted in various ways to fit various users. It can, of course, be combined with other machines such as conveyers.
Please do not hesitate to consult us.
Examples
Work efficiency can be improved by combining it with a blower.

It is also possible to insert the conveyer into the slot, and an optional feature of automated hopper lid.
<External Form>
TYPE GPC Granulator:Specification/ Measurement

Model
GPC-20V I32
GPC-30V I32
GPC-40V I32
GPC-50V I32
Operating electric motor drive
(kw)
15
22
30
37
Inlet size
A×B(mm)
562×498
562×615
762×615
762×615
Rotor radius
(mm)
φ260
φ320
φ320
φ420
Blade
Number of Rotary blades
3×2
3×2
3×2
3×2
Number of Fixed blades
2×2
2×2
2×2
2×2
Volume
C(L)
1114
1226
1226
1328
D(W)
1330
1158
1358
1427
E(H)
1829
2198
2198
2286
Weight
(kg)
1000
1500
1800
3000
⚠ The number of the blades differ according to the rotor type.
※ Please note that specifications and designs may be altered for improvement without prior notice.
Please contact us for measurements not indicated above.